Enhancing the shape of one's breasts or increasing the breast size is possible with a cosmetic surgery procedure which involves insertion of breast implants. Having a permanent breast implant is a major decision so get to know all about it before jumping to the procedure.
Dr. Amit Bhalotia is a board certified cosmetic surgeon with high patient satisfaction rates. He has performed various breast implant insertions with minimal complications after the procedure. His aesthetic sense as a cosmetic surgeon will help you get the perfect breast profile tailored to meet your expectations.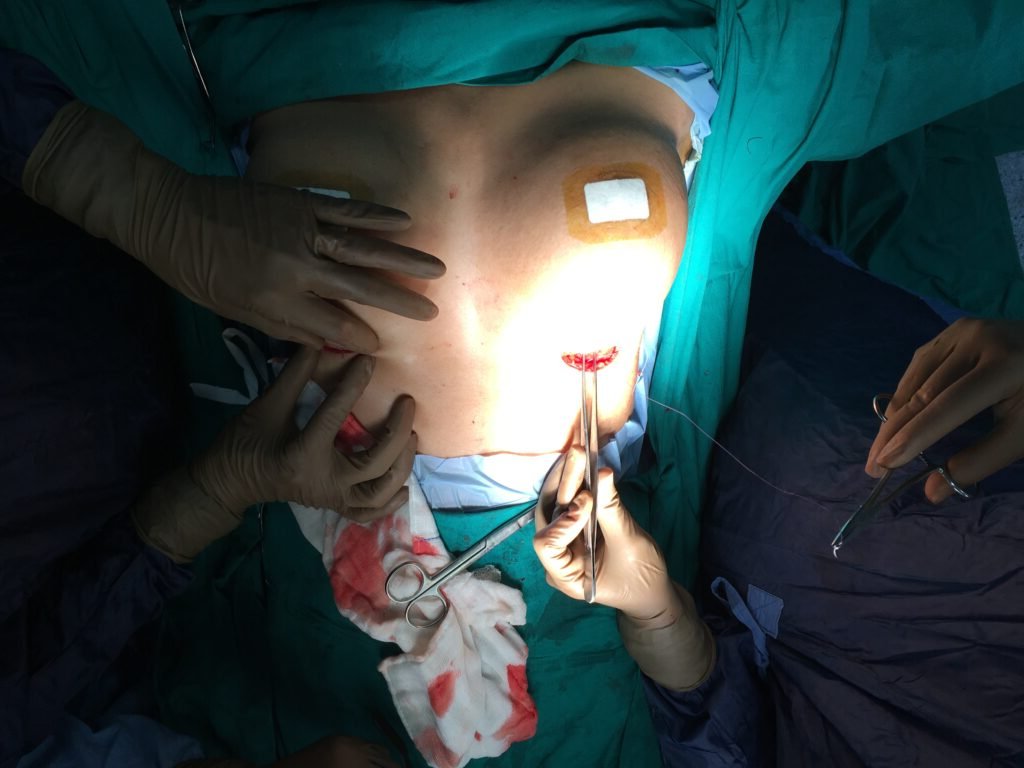 Goals
There are no "typical" breast implant patients; women have their own variable reasons for the procedure.
Breast implant insertion is one of the most effective procedures to correct any asymmetry or deformities, natural or accidental.
Restoring breast fullness lost after pregnancy & breastfeeding.
Breast augmentation for better cosmesis.
For some, it may even enhance their self-image and self-confidence.
Breast Implant Choices
One of the first steps to give you the expected results is choosing the right implants, i.e.ones that will fit well and feel right. Consultation with the doctor will help you finalize the type and shape of implant that is best for you.
Listed below are the types of implants available commonly:
Silicone Gel Implants
These implants are filled with either soft or firm silicone gel. Some have a coating on them to make them 'textured' and some have a firmer gel called 'cohesive gel' implants.
Pros
These give a natural feel compared to others.
They are soft and less likely to wrinkle.
The coated ones reduce the risk of implant rotation.
They also reduce the risk of capsular contracture.
Cons
Rarely, a soft gel implant may rupture, leading silicone to leak into the breast causing siliconomas.However, this complication can be avoided by using cohesive implants.
Firmer gel implants may not feel as natural.
Coated Implants may cause temporary skin reactions.
Saline Solution Implants
Saline solution implants are filled with sterile salt water. Some of them have an inner structure to make them look more natural.
Pros
Saline breast implants provide a uniform shape, firmness and feel.
If the implant ruptures, the saline solution is absorbed and passed out of the body.
Cons
More likely to rupture or deflate earlier compared to silicone implants.
Prone to get wrinkled or folded after some time.
Positioning
Implants can either be placed between the breast and the chest muscles or behind the chest muscles over the chest wall.
Different implants need different types of incisions (cuts to insert them), so the incision will depend on the implant you chose.
If placed between the breast and muscles,which is the most natural position,there is less discomfort and no muscle damage.
If inserted under the muscle, the advantage is good tissue coverage and the implant is less prone to rippling or rupture.
Recovery
To let the implants settle you will need to rest for a couple of weeks. Exercising and driving should be avoided for one week. It is suggested to wear a sports bra for a few weeks to support the breasts and help faster healing. Within six weeks you will be able to return to your routine life.